Company Profile
---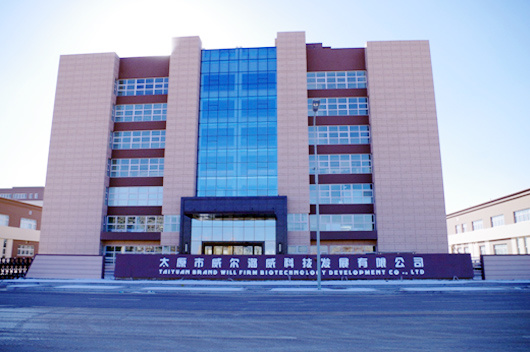 With close to 30 years in the industry,Taiyuan Brand Will Firm Biotechnology Development Co., Ltd. has been on the forefront in the innovation to come up with revolutionary products for veterinary nutrition management. The company was founded in 1992 and since then we have developed a wide range of products for different industries like aquaculture, plantation, food industry and health care. We apply advanced research and development technology along with our fully automated production facilities to maximize efficiency when developing the products before they are released into our established sales channels across China as well as our long term distribution partners in the US and European markets. Our product range includes veterinary drugs such as vitamins, essential oils from plants, acidifiers, probiotics, high-end nutritional products, additives and innovative formulas still in development. We have been able to successfully make developments in delivery system technology, capsule formulation technology and biotransformation technology to serve industries that include aquaculture, plantation, the food industry and health care.
The journey to where we are presently has not been a short one. We started way back in the early 1990s with the development of the widely adopted "1210 disinfectant" under the leadership of Chairman Liang Yanming. This product did very well in the market and was praised and recognized for its innovation. It was also widely adopted as a result of its impressive performance.
Following the success of this first product, we took another step and developed our range of liquid vitamin products. These products were released in 1993 and they performed exceptionally as supplements for drinking water in the broiler culture process.
In 2002 we achieved another milestone when we were recognized as a national "high-tech enterprise". One year later, the Brand Will Firm achieved another big milestone when one of our veterinary vitamin products, the "Vita gold liquid", was listed in the China Spark Program by the Ministry of Science and Technology. This product was developed after extensive research and development under the leadership of Chairman Liang
In addition to achieving the above milestones, we have also been able to solve a number of problems related to liquid propagation technology (nanotechnology). All the polymer materials are rationally selected to ensure the best results. We also make a point of constantly updating our equipment so that we can achieve molecular uniformity and at the same time achieving multi-stage targeted release. This enables us to develop a process platform that is centered on the delivery system that can achieve a number of multi-dimensional preparations, feed additives, high-end veterinary drug preparations, disinfectants and much more.
In the spirit of staying one step ahead in technology, we invested close to 300 million yuan in a smart factory in the Taiyuan Comprehensive Reform Demonstration Zone in 2015. This factory is fully equipped with a research and development center, a quality inspection center and an intelligent technology building.
On top of this smart factory, we have also built state of the art biotransformation, active extraction, polymer material preparation, pharmaceutical and premixing workshops. With these workshops, we are able to develop a full range of products that are able to provide practical solutions to problems in the industry.
The Brand Will Firm is an award-winning solutions provider that has produced many leading products and even received recognition from the Chinese Ministry of Agriculture. We have been rated as an excellent advanced technology innovation enterprise, a rating that can be attributed to the creative solutions that we have been able to come up with over the years.
We have vast amounts of technical reserves, and our production equipment has been specially designed for its specific purposes using our own intellectual property. We currently hold 13 patents and 2 software copyrights, making the Brand Will Frim a proud owner of an intellectual property patent cluster that cuts across multiple domains and industries.
In addition to having the necessary tools and technology, our team is our greatest asset. Over the years, we have made great strides aimed at ensuring that we put together a team of experienced, professional and technical talents. This team is the force behind our ability to produce continuous innovations that are practical and relevant in the industry. Together with our world-class inspection equipment and our complete testing and analysis processes that enable strict quality control, these people are able to ensure that all our products are in line with the required market standards.
Finally, Taiyuan Brand Will Firm Biotechnology Development Co., Ltd. firmly believes in open cooperation and common development. Driven by our desire to continually develop innovative technologies and backed by our able talent pool, we will continue making contributions to the green development of the livestock industry.